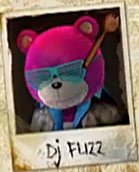 DJ Fuzz
 is the leader of the DJ Fuzz's Disco Defense Force that act as bodyguards for
Bubbles
while he holds a party at the beach. Naughty must defeat DJ Fuzz and his forces and kill Bubbles.
DJ Fuzz Summary
---
DJ Fuzz is quite the mixing master, isn't he? He's famous for his fun and funky music tracks and he always tops the charts on the hit-parade. Hmm, hit-parade, that sound like something you know all about, Naughty. Listen Naughty, he seems to be playing his music backwards and summoning the Un-Ted... Does he really need more fans? 
Ad blocker interference detected!
Wikia is a free-to-use site that makes money from advertising. We have a modified experience for viewers using ad blockers

Wikia is not accessible if you've made further modifications. Remove the custom ad blocker rule(s) and the page will load as expected.