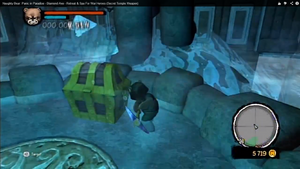 The Diamond Pickaxe is a weapon from Naughty Bear: Panic in Paradise. In the Secret Temple of the Retreat and Spa for War Heroes.
Speciality.
Edit
The Diamond Pickaxe, like the Pinata Stick, releases money when used for hit something. According to the Narrator it was used for dig out a kind of mineral sugar in the past.
The Diamond Pickaxe was a reference to the game Minecraft, being the highest tier of pickaxes.
The game also references Notch, a creator of said game in the description of the Diamond Pickaxe.
Ad blocker interference detected!
Wikia is a free-to-use site that makes money from advertising. We have a modified experience for viewers using ad blockers

Wikia is not accessible if you've made further modifications. Remove the custom ad blocker rule(s) and the page will load as expected.