Episode 1: The Party
is the introductory episode of
Naughty Bear
, the title of this episode is
The Party
Storyline
Edit
In this episode "Naughty Bear" is introduced by the Narrator who queries about the behavior of Daddles and some of the bears who arrive with a box, this box is revealed to contain a cake which the bears are hiding for Daddles' birthday party. Once again Naughty Bear has not been invited but has made a gift for Daddles, under the guidance of the voice inside his head (The Narrator) Naughty Bear heads to the party to present his gift to Daddles with the hope of becoming friends and being invited to the party.However Chubby and Giggles mock him and he sulks back to his hut where the Narrator urges him to destroy the gift and sort things out!{in the WRONG way!}
Naughty bear's anger towards the other bears reaches boiling point and a massacre takes place through the factory to the disco where Daddles is throwing his birthday party, the combined effort of the bears and the police force were no match for Naughty Bear who proceeded to kill all the other bears and punish Daddles by killing him.
Optional Missions
Edit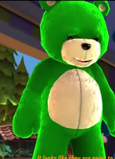 Ironic Kill: Kill Daddles with the disco turntable.
Secret Mission: Get the entire police force on the island.
Top Hat: Gold on the top hat challenge is around 1,680,000, the best way to obtain this score is pushing them over the edge, this will take some time to complete. All the bears have blasters (From Episode 7 ) so use guns and traps often.
To gain bonus points, distroy the gifts scattered about the island and destroy them by throwing them in the fire,a toilet or any other way.
Challenges
Edit
1-1 Killer: Party Massacre
1-2 Friendly: The Peace Loving Party
1-3 Insanity: The Craziest Party ever!!!!
1-4 Top Hat: Bring Your Own Hat
Main Characters
Edit
Ad blocker interference detected!
Wikia is a free-to-use site that makes money from advertising. We have a modified experience for viewers using ad blockers

Wikia is not accessible if you've made further modifications. Remove the custom ad blocker rule(s) and the page will load as expected.