Episode 2: Top Teddy
is the second episode of the game
Naughty Bear
.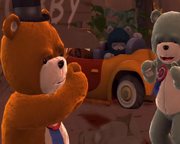 Narrator's Dialogue
Edit
Hello again, Naughty Bear! My that looks like a nice spot to lie on the soft leaves and watch the Fluffouls. It certainly is a most beautiful day. It's so restful here. You could spend all day just sitting and relaxing. My, my, Naughty Bear, whatever is that terrible noise? It sounds like the other bears are up to something. Oh look, it's an election to be the new Mayor of the island - how exciting. But what's that he's handing out. Oh my Naughty Bear, it looks like he's going to get rid of you if he gets elected. I don't think you can allow him to win this election can you, Naughty Bear? Perhaps you should go and shut him down? Oh dear, it looks like he's hired help to keep him safe. You'd better be careful Naughty Bear.
Storyline
Edit
Naughty Bear is relaxing near his hut, watching the Fluffouls, when he hears the commotion for the upcoming election outside of his gate. Mayor Chubby is running his re-election campaign and this time, he makes a bold promise to kill Naughty Bear should he be elected again.(oh boy...) The Narrator tells Naughty Bear that Chubby should not be allowed to win due to this fact. To further complicate things, Chubby has hired ninjas to protect him which prompts the Narrator to urge Naughty Bear to be cautious.
Ad blocker interference detected!
Wikia is a free-to-use site that makes money from advertising. We have a modified experience for viewers using ad blockers

Wikia is not accessible if you've made further modifications. Remove the custom ad blocker rule(s) and the page will load as expected.