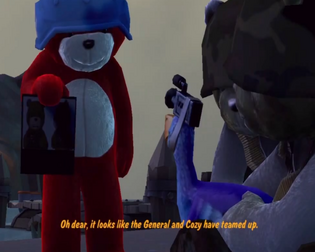 Episode 3: Big Ted Is Watching is the third episode of the game
Naughty Bear
.
Storyline
Edit
Naughty Bear is asleep in bed when he is suddenly awoken by a bird flying by.The Narrator greets him then mentions to Naughty that there is a strange bird outside of his hut. He walks to his window to investigate a strange noise and finds a strange-looking bird picking at a dead fluffrog. The bird has a camera fitted on top of its head. Naughty Bear sneaks out of his house to find that Cozy is ordering the army to fit birds with cameras on their heads by which to spy on Naughty Bear (dubbed the "Bad Fluffy Bird Cams"). The Narrator tells Naughty Bear to shoot down as many of them as he can,and at the same time kill Cozy and Colonel Ketchup.
Walkthrough
Edit
Main Characters
Edit
Ad blocker interference detected!
Wikia is a free-to-use site that makes money from advertising. We have a modified experience for viewers using ad blockers

Wikia is not accessible if you've made further modifications. Remove the custom ad blocker rule(s) and the page will load as expected.