Ghouls are vampire's servants on episode 10 where they help Vampires to kill Naughty.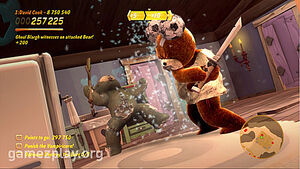 Ghouls are just another type of Zombears in the game, they have the same stats as normal Zombear. They can find you even in the woods and they also rise from ground till none are left. They also look like Zombears. They have three differences: they are named Ghouls, they are more effected by your naughtiness, and can use guns and other weapons when Zombears use just sticks and bones.
Their leaders are Stardust and Vampiricorn. Stardust later turns into a Ghoul whith a lot of health and Oozy. Stardust's ghoul looks different than other ghouls. He wears Wizard hat and looks more like a dirty old teddy than a Zombear.
Ad blocker interference detected!
Wikia is a free-to-use site that makes money from advertising. We have a modified experience for viewers using ad blockers

Wikia is not accessible if you've made further modifications. Remove the custom ad blocker rule(s) and the page will load as expected.